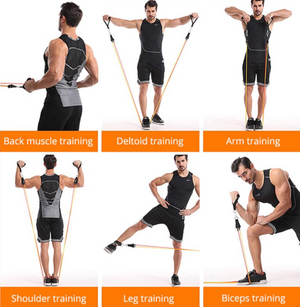 Resistance Bands 11 Piece Set
Perfect for beginners or advanced athletes 
Our resistance bands set has 11 pieces in total, including varying resistance levels which makes this perfect if you are a beginner or an advanced athlete. The set comes with comfortable handles, a secure door attachment which makes it possible to do hundreds of extra exercises. There are also ankle straps included so you can work on your leg muscles. 
The set is perfect for muscle gain, weight loss, rehabilitation, strength gain and yoga. These resistance bands allow you to perform a huge variety of exercises and stretches for a full body workout.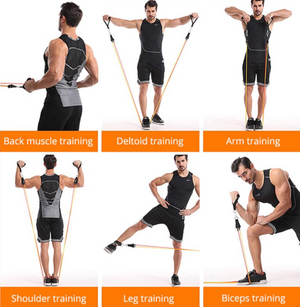 Great item
Faster delivery than i was expecting. It all work great.
Great set! I love how easy it is to change the resistance level, some exercises are easier than others to do so I change the bands I use depending on the exercise.
Perfect set for me, I started off with the lighter resistance bands but am working my way up!